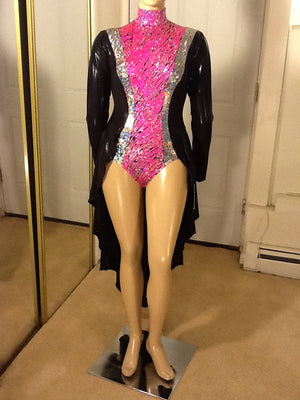 HOT PINK (or 5 additional colors) AND BLACK LEOTARD
FABULOUS BLACK, AND HOT PINK (or your choice of 5 addtional colors) SPARKLE DANCE BODYSUIT!
  This bodysuit is made of a beautiful black foil  spandex. It has a center panel made of a hot pink hologram spandex with black, and silver glitter. It is outlined with a silver hologram spandex. If you would like the hot pink panel changed, it comes is several colors. Silver, Gold Red. Blue and Turquoise. This would be great for a group! It has an over skirt in the back. This leotard is form fitting with an invisible zipper up the back.
All item are custom made for this site. Feel free to contact about any specifics concerning the garment. Hey Girls! just wanted to let you know that some minor alterations can be requested at no additional charge before shipping. If you want the train cut off, or want it the size adjusted.