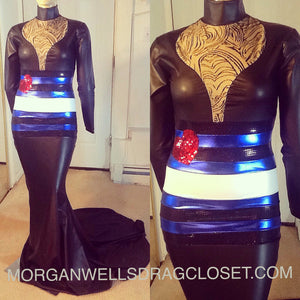 LEATHER PRIDE FLAG DRESS
LEATHER PRIDE FLAG DRESS!
This Morgan Wells original of a black leather look stretch vinyl. It has a sheer bust section lined with nude lining. It has the leather pride flag through the midsection. This dress is form fitting with an invisible up the back, and a fabulous train.  
All item are custom made for this site. Feel free to contact about any specifics concerning the garment. Hey Girls! just wanted to let you know that some minor alterations can be requested at no additional charge before shipping. If you want the train cut off, or want it the size adjusted.